Hillcrest Transportation & Limo Services
From The Airport
Headed home to Hillcrest after an exhausting trip? Don't mess with cabs or clamber aboard the bus; end your trip on a high note with premier airport transportation from Treasure Limo. For a few dollars more than a cab ride, you can sink into the plush leather seat of a Lincoln Town car and be whisked to Hillcrest by a courteous, professional chauffeur.
Have some friends coming for a visit? No doubt you have more important things to do than drive to the airport, take a few spins around the circle, and cram all their luggage into your trunk.
Send Treasure Limo instead.
We'll even greet your party with a sign if you wish.
Imagine how they'll feel as they step out of the airport and into a limo waiting just for them. It could be a widely acclaimed Lincoln Town Car, or, if you have more than four friends, or they're travelling with a boatload of luggage, one of our Luxury SUVs.
Either way, the 15-minute ride, (time varies) will be over in the blink of an eye as they entertain themselves with our onboard amenities. They'll show up at your door in high spirits, rather than frazzled from an arduous cab journey through the bowels of San Diego.
Make it happen with Treasure Limo.
Tourist Information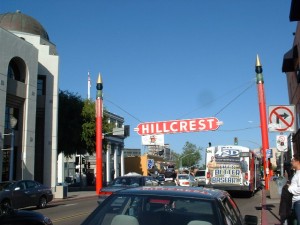 While hotels in Hillcrest are few and far between, no trip to San Diego would be complete without a trip to Hillcrest. You'll find a bewildering array of restaurants and nightlife in this trendy neighborhood. From Mexican to Indian to Thai, Hillcrest has a restaurant to please every pallet. Hillcrest is also famous for its legendary nightlife. Choose from a cornucopia of bars, lounges and nightclubs that host a dazzling array of dancing and live entertainment.
The Sommerset Suites is the only major hotel in Hillcrest and is located between the two area hospitals. Even if you're not here to visit a patient, the Sommerset offers comfortable suites equipped with full kitchens at low prices. And, you'll be in walking distance to all Hillcrest has to offer.
Balboa Park and the San Diego Zoo are also a short distance away, (short drive, long walk.) The park boasts dozens of museums and events, while the zoo continues to expand with a tremendous breadth of wildlife you'll have to see to believe. These two attractions alone could entertain a family for days on end.
To The Airport
Would you rather take the bus from Hillcrest to Lindbergh? Spend $20+ on an unreliable taxi? Or cruise to the airport in luxurious comfort.
We thought so.
Let Treasure Limo take care of all your airport transportation needs. Whether you're just shooting over to Lindbergh or going all the way up to LAX, we're your airport ride.
We even accept same-day reservations for your convenience. So if you're sick of taxis and can't abide the bus, ride with Treasure Limo. As your chauffeur handles your luggage and helps you check in, you'll be glad you did.