La Jolla Transportation & Limo Services
From The Airport
Headed to the Hyatt or one of La Jolla's other prime hotels for a conference? Vacationing in style? Returning home after an arduous journey and simply want a quick, comfortable ride?
Treasure Limo is your answer.
We offer town cars and luxury SUV's to transport you from the airport in elegance, style and safety. Our professional, courteous chauffeurs can help you acclimate to the area or leave you in peace as you desire. Since we're a family-owned company from San Diego ourselves, we can give you the inside scoop you won't get with many other firms.
Trips may be booked the same day or well ahead of time. If you're curious about how much a particular ride will cost, just use our Instant Quote tool.
Tourist Information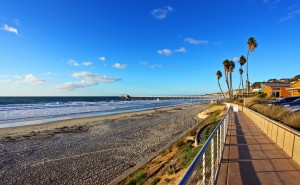 Not officially part of San Diego, La Jolla stretches from Mount Solidad on the east to the mighty Pacific on the west, and there's plenty to do in between.
La Jolla Cove is among the most pristine beaches in San Diego county. Since the waters are calm, it's a great place to kayak or snorkel. La Jolla Shores also fits the bill well in this area. Surfers might want to head to Windansea beach for killer rides. The kids will love the seals at the children's pool. In fact, it was a children's pool, but the seals took over, and it's now become a prime tourist attraction.
Shopping and dining are abundant on Prospect Street and the surrounding neighborhood. You can choose from quick eats, a sumptuous five-star dinner, or tasty deserts. And you'll also find plenty to tickle your shopping bone.
Tory Pines boasts two PGA Championship-quality golf courses. And don't forget to catch the sunset from Mount Solidad.
There are 25 hotels in La Jolla – everything from B&B's to the Marriot, Sheridan and Hyatt. With so much happening in this town, they fill up quickly, so book early.
To The Airport
Whether you're a La Jolla resident heading out for business or pleasure, or a traveller getting ready to head back home, take your airport ride with Treasure Limo. If you're a resident, you'll usually find it considerably cheaper to ride with us than drive yourself and pay to park while you're gone. If your trip is almost over, what better way to end it than with a luxury limousine experience. It's an excellent way to cap off an excellent trip. This way, you'll be immersed in luxury all the way to the airport, and perhaps beyond.
We can accommodate same-day as well as future bookings. Take a test drive with our Instant Quote tool.
If you value courtesy, comfort, and safety, you'll find kindred spirits here at Treasure Limo.