Poway Transportation & Limo Services
From The Airport
The commute from Poway to the San Diego airport is rife with possible hiccup's. An accident or just traffic that's a little heavier than normal on any one of three highways could spell delays for you. If you'd rather not scramble on the phone or the radio trying to find the latest traffic status, then plan your route – only to run into traffic anyway – leave it to us at Treasure Limo. You'll be much happier as you roll along toward the airport safe and secure in the comfort of a premier limo.
Are you expecting visitors from out of town? Do you want to go pick them up at the airport? Who does? We do. An airport ride from Treasure Limo is the ultimate welcome to San Diego. One of our well-mannered, well-dressed chauffeurs will greet your party with a custom sign, (if you like) and help them collect their belongings, (and themselves.) We can even notify you when we've made the pickup. The next thing you know, they'll be at your door and in fine spirits as well.
Tourist Information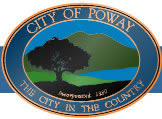 Known as "The City In The Country," Poway, population aprox. 50,000, is nestled in northeastern San Diego county. You won't find fancy hotels or flashy restaurants here. However, Poway is not without its gems.
If you're a fishing fanatic, you might like to try Lake Poway. The trout are usually biting pretty well. Hikers will enjoy the miles of trails easily accessible from town.
When it comes time to eat, you'll want to take a stroll down Mexican Roe, otherwise known as Poway Road. There, you can choose between several authentic Mexican kitchens. If you're not ready to go home after dinner, you'll find a few bars open late for your enjoyment.
Poway also features a few art and dance entertainment options.
And, it's only half an hour from downtown San Diego.
To The Airport
When it's time for your visitors to leave, it may be tempting to crowd everyone into the SUV and make the unpredictable drive into the city. But why not end your guests' trip on the high note on which it began. Go online or call Treasure Limo, and reserve an airport ride they won't soon forget. Since it's the last item on their agenda, we'll make sure its extra special.
And if you ever need airport transportation, we hope you'll call on us. We're cheaper than airport parking and a lot less nerve-racking than driving yourself, or taking a cab.